Buy A Hannants Gift Voucher
Minimum gift voucher amount £10.00.
Gift Vouchers do not have an expiry date.
The Recipient will receive an email including a voucher code to redeem at the Hannants checkout.
Gift vouchers have a one time use. If the order is less than the value of the voucher the remaining balance will be lost.
If the total order is greater than the voucher value, the Recipient can pay the extra by credit card or PayPal.
Gift Vouchers can only be used with on-line purchases. They cannot be used in the Colindale shop.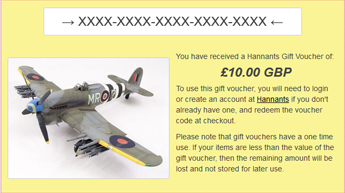 Copyright © 2001-2023 H. G. Hannant Limited. All rights reserved. | Website by Dessol
Privacy Policy | Cookie Information | Switch to Mobile Version